Price: Free

VancePDF is an intuitive PowerPoint to PDF converter that is designed to help compress, merge, split, and convert from and to PDF files on a unified platform. VancePDF is perfect for converting PowerPoint to PDF since it uses OCR technology which makes the conversion as accurate as possible. The tool offers SSL security, data encryption, analytics, document archiving, data recovery, and more. All of them make VancePDF conversion of PowerPoint to PDF here one of the best.
Pros
Provides data encrypted security and protection of data
Uses Optical character recognition (OCR) for character reading and recognition.
Price: Free and Paid (Team plan $10/mo per user, Pro Plan $12/mo, Business Plan (custom pricing)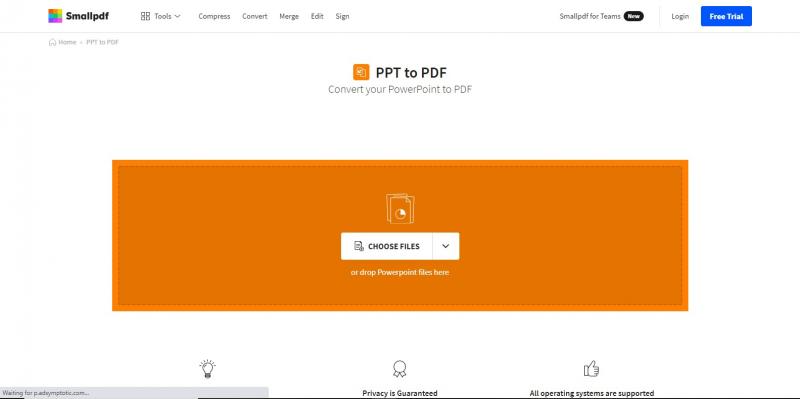 SmallPDF is a cross-platform PowerPoint to Pdf converter. With over 21 PDF tools provided on the platform to enable you to create, edit, and convert from and to PDF tools, it is one of the most advanced and elaborate PDF management tools. Anybody can use SmallPDF for conversion of PowerPoint to PDF since it is available in 24 languages. Also, learning how to convert PowerPoint to PDF on this platform is straightforward since it has a user-friendly interface.
Pros
Conversion of PowerPoint to PDF and vice versa
Convenient to share PDF files online using the receiver's email address
Online and offline processing
Secured with 256-bit SSL, unlimited document size and cloud storage.
Cons
Paid plans are more expensive than competitors
Inefficiency with fonts recognition.
Pricing: Free and Paid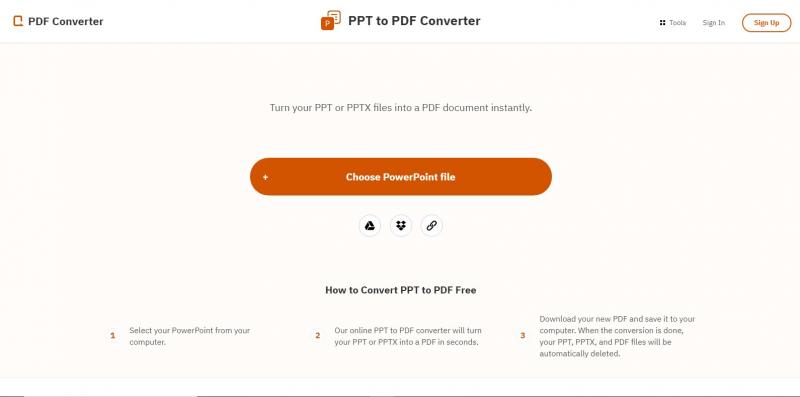 With PDF Converter, you can convert password protected PowerPoint to PDF file through this site. You can also convert files in various formats, such as Word, Excel and Rich Text Format to PDF. This PowerPoint to PDF converter allows you access to all the tools only on the paid plans. You are required to register your email ID with this site and they will send the converted file to your inbox. This site protects your data as it is secured with 256-bit SSL encryption at the time of download and upload. Also, it instantly deletes all the files immediately after conversion to ensure data protection.
Pros
It offers data protection and encryption
Conversion of files across multiple browsers
Ensures your anonymity by deleting all data after each session.
Cons
You cannot convert more than two pages on free plan
Irregularities in subscription charges
Bad and unresponsive customer service.
Pricing: Free trial and Paid (Home $10/mo, Premium $15/mo, Business $20/mo, Enterprise edition $159)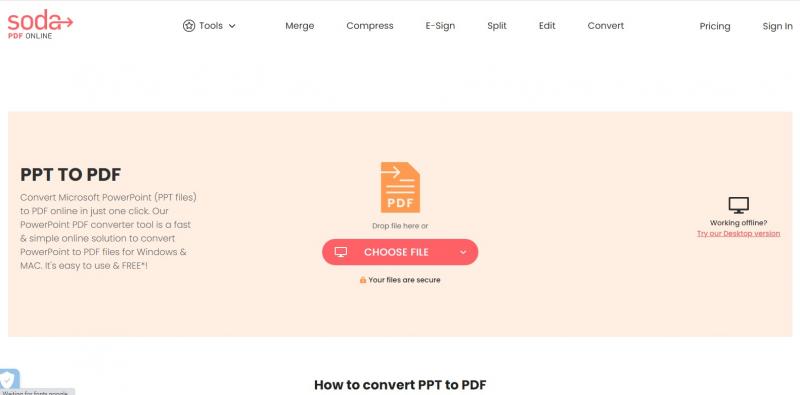 SodaPDF allows users to convert popular file formats such as Word, Excel, images, HTML and PowerPoint to PDF. It allows you to documents merging, splitting and rearrangement. Also, you are allowed the option to store both the original and the converted documents in the cloud or share via email. It is particularly good to convert PowerPoint to Pdf online with SodaPDF because of the ease and accuracy that the tool provides. Also, it is available for both mac, windows and Linux desktops with optimized versions accessible through mobiles.
Pros
Accessible across multiple platforms
The functionality, speed and accuracy of file conversion is the best
Trial version offers everything.
Cons
When printing files in batches, it may become unresponsive
Lacks optical character recognition and has issues with fonts
The pricing is steep and a bit more expensive.
Pricing: Free and Paid ($8/month)



Cloud Convert is a document management platform designed to help you import and convert files such as audios, videos, eBooks, images, spreadsheets, and PowerPoint to PDF. Managers can use the API to modify the system and integrate it with various third-party applications such as Trello. Secure confidential PowerPoint files to prevent unauthorized data exploitation. The software also helps users export files in Google Drive, Dropbox, or OneDrive.
Pros
Makes use of API to modify system and integrate 3rd party apps
It secures confidentiality of files
User-friendly interface.
Cons
Conversion of big files takes too much time
It can encounter difficulty reading specialized fonts
The platform can be vague sometimes during use.
Pricing: Free and Paid (Premium $6.50/month)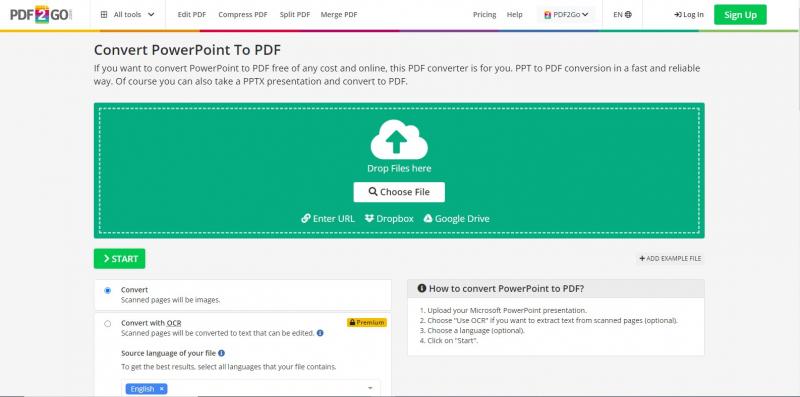 PDF2GO ranks high among PowerPoint to PDF conversion tools. With a user-friendly interface dedicated to making the experience easier for new users, it can be accessed through all devices with access to the internet. It has a built-in OCR tool with Deskew options that simplifies fonts reading during conversion. Learning how to convert PowerPoint to PDF here will give access to secure uploading and downloading experience backed by 256-bit SSL encryption. Most importantly, to convert large PowerPoint to PDF files here is easy since it uses batch processing.
Pros
A built-in OCR tool coupled with Deskew options
Integrates popular cloud services (Google Drive, Dropbox)
Secures uploads and downloads with 256-bit SSL.
Cons
Limited and ad-laden free versions
The free version may not last for long.
Conclusion
Since PowerPoint is one of the best ways to create aesthetically pleasing presentations, it is almost impossible to not desire to have them secured from alterations. Learning how to convert PowerPoints to PDF will be essential to achieve this. Hence, with this article, you should be equipped with the right PPT to PDF tools to achieve it.
Also read How to Change JPG to PDF - 3 Best Ways to convert more file formats from and to PDF.