Price: Free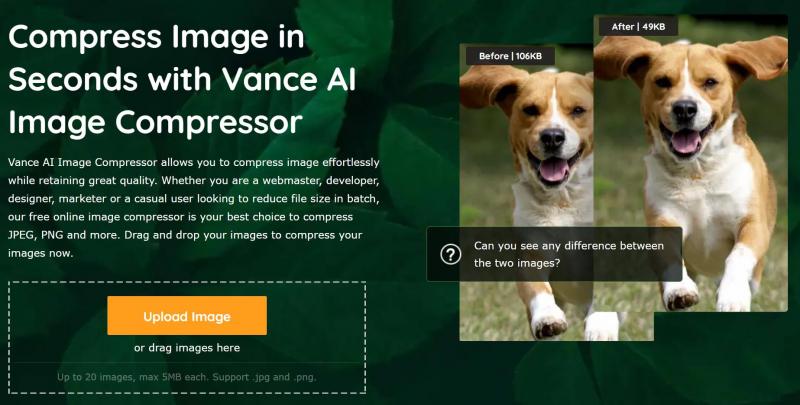 Vance AI Image Compressor allows you to reduce image file size in various formats including JPG and PNG. Besides, this tool offers you the ability to bulk-optimize your image library as well as resize these images on upload. The available plans can be used across diverse platforms and websites, and best of all, Vance AI Image Compressor allows you to upload the max file size of 5MB, which is a quite large size for the common images we are dealing with. While this may be insignificant, one downside to this tool is the inability to select compression levels at will – the tool automatically decides on this per image.
Pros
Relatively easy to use
Bulk image optimization
Cons
You can't choose compression level.
Price: Freemium ($3.99/$4.99 monthly)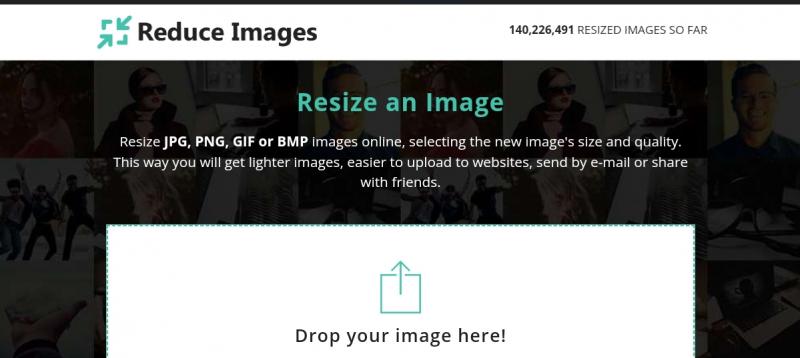 This image file size reducer not only allows you to reduce image file size but also lets you compress your images. It does this irrespective of the format, size, or orientation of such image. Besides, Reduce Images allows you to save the resulting image in various formats, including the popular ones such as PNG, BMP, JPG, GIF, and more. On reviewing the resulting image, you'd discover that the picture would still feature roughly equal pixel numbers as the screen displaying it, and you won't have to worry about any loss in details or equality- even if you view the image in full screen. Essentially, this is the best fit for you, if you are intending to reduce image size without losing quality.
Pros
Reduce image size within seconds
You only need to drag and drop the image
Most basic features are available for free
Cons
The free version is limited (You can't upload multiple images)
Ads reduce the overall user experience
Price: Freemium ($4/month)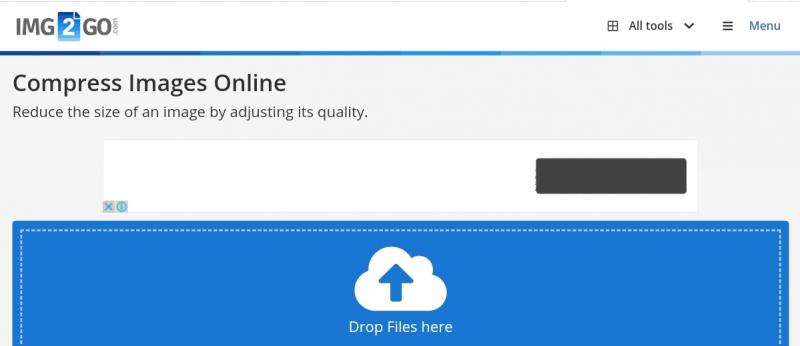 Also touted as an easy-to-use drag and drop image file size reducer, with IMG2GO, you can reduce image file size for any of your preferred formats within a few seconds. It allows you to optimize a vast range of image formats, including the well-known JPG, PNG, etc – by reducing their size and even converting them into 12 various formats depending on your preferences. Unlike Tiny PNG, IMG20 gives you full power over your customizations, as you are free to choose your preferred width, height, as well as DPI. While this tool is free to a significant extent, some features such as working with unlimited file size or numerous files per conversion, are only accessible at a $4 monthly fee. Even if you've never attempted to reduce the image file size before, you'd definitely find this tool accessible and easy to navigate.
Pros
Simple drag and drop
Free image file size reducer
Freedom to choose file sizes
Cons
Ads diminish the overall experience
The free version has limited functionality.
Price: Free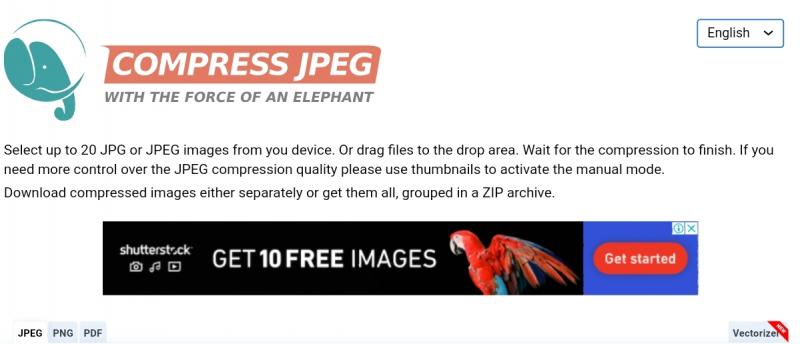 Compress JPEG is also another accessible tool to make image file size smaller, and best of all, it is free! You don't have to spend a dime. In fact, you can pick up to 20 JPEG or JPG image files from your device and reduce their sizes simultaneously. Just like the preceding tool, it also offers you quite some freedom pertinent to customization. However, for a beginner, the tool might be pretty challenging to use. But once you are accustomed to it, it has what it takes to get the best out of your website. Optimizing your images, saving bandwidths, and ultimately, making your website faster has never been easier as it is with Compress JPEG. Besides, to further facilitate a robust user experience, there is a dedicated webpage for diverse languages, so you can go about the entire process seamlessly.
Pros
All its features are free
Customization freedom
Reduce image file size for many pictures.
Automatically deletes images after an hour
Cons
It may not be easy to use for beginners
Price: Free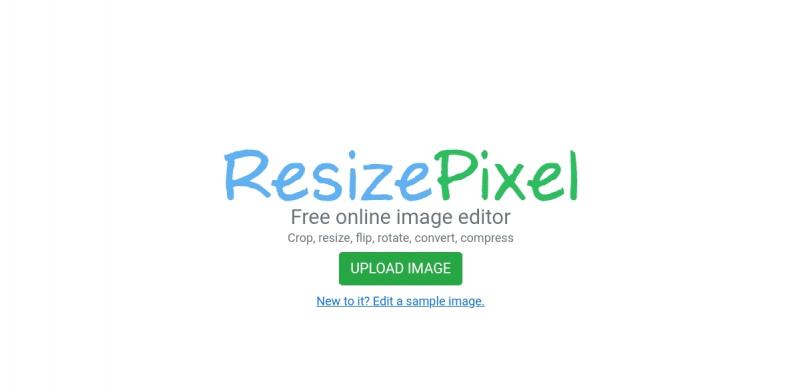 If you are looking to access a simple, yet powerful image file size reducer, then look no further than Resize Pixel. Even with the range of functionalities embedded therein, this tool makes it easy for anyone to complete the process. It allows you to resize WEBP, PNG, JPG, TIFF, BMP, and other image file formats while offering you a more convenient option to retain their particular aspect ratios. Suppose you want to make your image file size smaller, you may decide to resize them in KB/MB. Essentially, with just a few clicks online, you can easily reduce image file size without the need to install a plugin or additional software. Touted as All-in-one, Resize Pixel also allows you to carry out a range of modifications on your images, besides file reduction. To steer clear of any compromise relating you your data or images, the tool claims it neither sends, collects, nor distributes the images uploaded to any third-party agency or platform.
Pros
It is completely free
Easy to navigate and use freely
Very secure
Mobile friendly
Cons
There are ads on its page
Price: free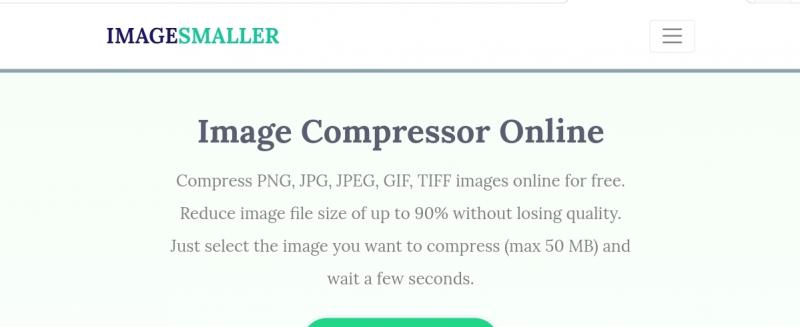 As resizing image file size is a given for web page optimization and SEO, here is another lossless image size reducer to help you ease the entire procedure. Using Image Smaller, you can make image file sizes smaller, thereby optimizing them without losing their quality. You can do this directly from your web browser – all you have to do is pick the image file you want to reduce its size and wait a few seconds and kaboom! You're done. What's even more compelling is its ability to help you reduce the image file size by up to 90% without having to worry about its appearance and quality, even in a full-screen mode. However, you can only work on one file at a time, as the platform doesn't permit bulk file size reduction. As well, unlike some aforementioned tools with unlimited file size support, image smaller will only allow you to modify a maximum of 50mb image size. All in all, it's a pretty handy tool that you can never go wrong with.
Pros
Completely free
Functional and easy to navigate
Cons
Automatic optimization- no freedom to customize
Price: Free

This is another free tool, allowing you to realize your image files. With Image Optimizer, resizing your image files has never been easier, as you can simply complete the entire process with just a button click. Besides its online tool, this platform also has offline desktop software that could even ease the entire process more. The platform is pretty straightforward, and its ease of use is as clear as day, right from the landing page. Using this tool, you can set the available options such as quality, width, as well as height, to align with your preferences. It offers image file size reduction for various formats including PNG, and JPG, and once you click the "optimize" button, the image is automatically resized considering your preferences.
Pros
You can complete it within a few seconds
Results are satisfactory
The platform is pretty and relatively the easiest to navigate
Ability to customize your files per your preferences
Cons
Price: Freemium ($25/year)
Tiny JPG primarily focuses on reducing the file size of images in JPEG format. On upload, the platform automatically conducts a smart analysis on the images and as such, work towards applying the best JPEG encoding for such images. Besides, depending on the content of the image, it selects pertinent optimal strategies for them. Thus, the resulting image is always that of top quality that would eventually save bandwidth as well as space on your website. As you probably know, JPEG files are relatively challenging to optimize. In fact, setting a fine balance between quality and size used to be a predominantly manual and time-wasting task. But with TinyJPG, all you need is to upload the image, the platform analyzes it, automatically detects associated color trends and patterns, and lastly, fine tine the resulting image by stripping off unnecessary metadata from it.
Pros
Quick and easy to use
Mobile-friendly platform
Cons
The free version is with limited functionality

Conclusion
In this world where everything is fast-paced, slow-loading websites would be left behind in no time. And as aforementioned, large image files could contribute to such slow speed attributed to a website. As such, this calls for the need to use optimized images and pictures with almost perfectly reduced sizes for site contents. In a bid to achieve this, the tools highlighted in this guide, such as Vance AI Image Compressor, would be undoubtedly instrumental to its success. While some are paid tools and others are free, these tools are almost equally functional. And therefore, you may assess and weigh the pros and cons of each to decide on which is best for you.