Price: Free

VancePDF is an intuitive and innovative toolset that is specialized in PDF conversion and management services. The tool creatively employed AI technology into its cloud-based services, making all the file processing procedure smoother and more accurate. So you shouldn't expect anything less than quality from this tool. Using its immensely comprehensive, intuitive as well as robust interface, this tool allows you to change pdf to word document in no time. And the resulting editable file is usually an almost perfect replica of the original, with no disorganized margins and formatting. The entire process is also so easy that you can complete it in a matter of seconds.
Pros
Easy to navigate and use
Comprehensive and intuitive interface
Get things done with the best possible quality
Easy drag and drop feature as well as an array of productivity-centric functionalities
How to use
Step 1: Select the file you intend to convert using the "select a file" button. You may also do this by using the drag and drop option present on the interface.
Step 2: The tool automatically kickstarts the entire process and completes it in no time
Step 3: you may then proceed to save the editable word document in any folder of your choice.
Price: Freemium ($6 per month and $48 per year)

Here is another heavyweight when it comes to anything related to file conversions. Whether you are looking to convert pdf to a word document or vice versa, here's a tool that can help you get things done seamlessly. Smallpdf is essentially a browser-based pdf to word doc converter that features a straightforward user interface centering around offering you a more robust user experience. Its functionality is not only limited to PDF to word doc conversions; however, you can carry out serval other processes including compression and merging. Besides its ease of use and quality assurance, this tool establishes reliable security frameworks to safeguard documents you upload. Thus, if you are seeking how to convert a pdf to word, look no further than this.
Pros
Intuitive and easy to navigate
The free version can help you get things done to a considerable extent
Access to a sizable range and suite of pdf modification features
The integrity of your uploads are guaranteed
Cons
The free version has time limits, preventing you from fully leveraging the features embedded therein
How to use
Step 1: select the choose file option and pick the file decided for conversion. Conversely, you can decide to use the drag and drop option
Step 2: Select your preferred destination formats (word in this case)
Step 3: Now, you can download the file using your preferred media.
Price: $6 monthly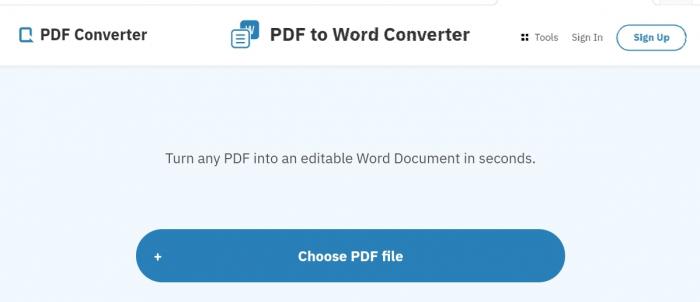 Here is one of the most straightforward, simplest, sleekest, and cleanest converters you'd find online. It is devoid of those annoying and experience-diminishing ads. With over ten million dedicated user bases, you can always trust this tool to deliver when it comes to reliability. If you search for how to convert a pdf to word, you'd undoubtedly encounter countless tools. But almost none would deliver what this does in terms of quality delivery, freedom as well as the organization of the converted word file. It is relatively cheaper than other options while offering you an almost equally functional platform to convert pdf to word documents as you deem fit.
Pros
Elegant and ever intuitive and responding user interface
Supports multi-format editing, with PDF at the core of all its offerings
Cons
The name might sound pretty dishonest- it's not free, but comes at a meager cost
Subscription required to convert over two pages
How to use this
Step 1: Visit the official pdf to the word conversion website
Step 2: Select the Choose PDF file button painted blue. Or use the drag and drop feature. Now, the converter completes the entire process automatically
Step 3: If what you seek is how to convert a pdf to word featuring over 2 pages, a subscription might be required.
Final thoughts
Again, while PDFs have always been the gold standard for all file formats, editing them can be a somewhat daunting task. Not to mention the range of substandard tools saturating the pdf conversion ecosystem, finding the right tool for this effort can be even more arduous. However, having learned about these tools and how to convert a PDF to word using various functional tools, you can delve into the process without worrying about the integrity of your current file, its security, and confidentiality, as well as the organization and quality of the resultant document. None is free, but they all offer you the best alternatives at meager costs.
So, have any interest in converting Word to PDF? Also read Best 6 Tools to Convert Word Doc to PDF.