If you have ever been handed tables or documents in list format in a PDF file that you are meant to edit, you will understand the importance of knowing how to convert PDF to Excel spreadsheet. Especially for people with lean budgets, understanding how to convert a PDF to Excel for free online will come in handy. Though the conversion may be done manually, it is more efficient and accurate when done online.
Top 7 tools to convert PDF to Excel Spreadsheet
Pricing: Free
VancePDF is an auto-powered PDF tool and one of the best PDF to Excel converters. Using VancePDF, you can edit, merge, customize and convert your PDF to Excel spreadsheet without hassles and in simple basic steps. While it is accessible via all browsers, it guarantees 256-bit SSL encryption for secure uploading and processing of data. Also, this PDF to Excel tool can erase your data 24 hours after your file download for privacy.
Pros
Secured and encrypted connection
Free to use
User privacy is guaranteed
Cons
Conversion of big files takes too much time
Pricing: Free and Paid (Starts at $10/mo)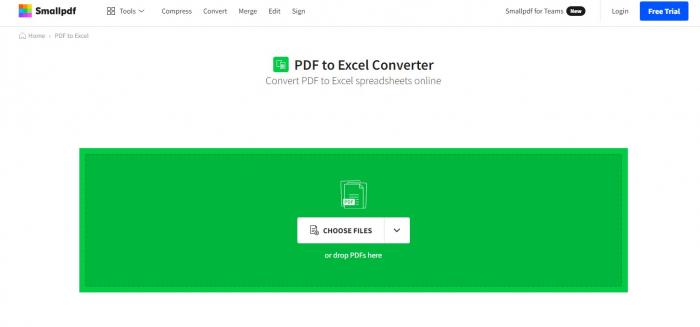 Convert PDF to excel spreadsheet with SmallPDF and you are guaranteed access to one of the most advanced PDF management tools online. It uses optical character recognition (OCR) feature for accurate conversion of data. One of the perks of using Smallpdf is its offline feature which enables you to convert a PDF to excel both online and offline. In addition, its availability in 24 different languages makes it distinguished among other tools.
Pros
Online and offline processing
Secured and unlimited cloud storage
Cons
Inconsistencies in batch processing
Pricing: Free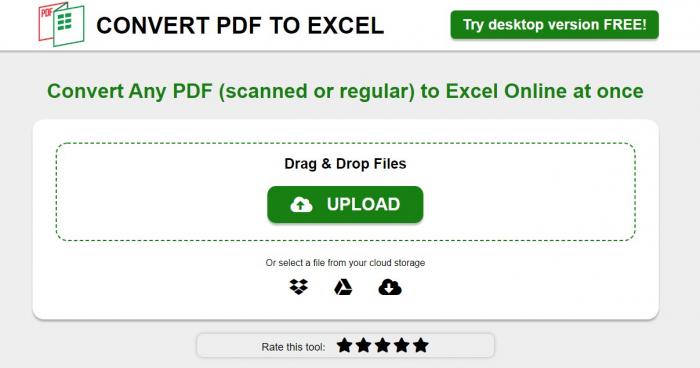 This is also one of the best online PDF to Excel converters available. As the name suggests, it is dedicated to converting PDF to excel spreadsheet with simple and easy 4 steps. It is completely web-based and files are converted on the server. You can use this tool without signing up. Also, it can convert scanned PDF documents to excel.
Pros
Easy to use
User privacy is prioritized
Cons
Bulky PDF takes too much time to convert
Pricing: Free and Paid (starts at $4/mo)
iLovePDF is a sophisticated PDF to Excel spreadsheet converter that is designed as an all-in-one PDF tool. It uses optical character recognition tool which makes file conversion accurate and correct. It offers domain filtering, SSL encryption, analytics, data recovery, and document archiving amongst its other features. Also, it repairs corrupted or damaged PDF files.
Pros
Repairs damaged PDF tools.
Provides secured connection
Uses OCR for character reading
Cons
Many on-site advertisements
No Linux and mobile app integration
Pricing: Free and Paid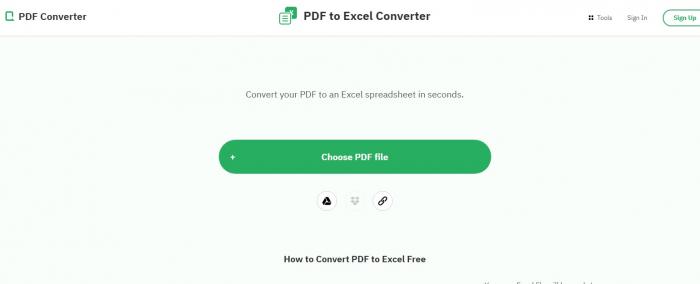 This site is designed to convert PDF to excel spreadsheet online. With this tool, you can convert password-protected PDF files to excel without hassles. Also, this tool required you to register your email ID before downloading your files. This site protects your data as it is secured with 256-bit SSL encryption at the time of processing.
Pros
User privacy is protected
Deletes all data after each session
Converts password protected files
Cons
Limited free plan
Irregularities in subscription charges
Unresponsive customer service
Pricing: Free and Paid (starts at $2/mo)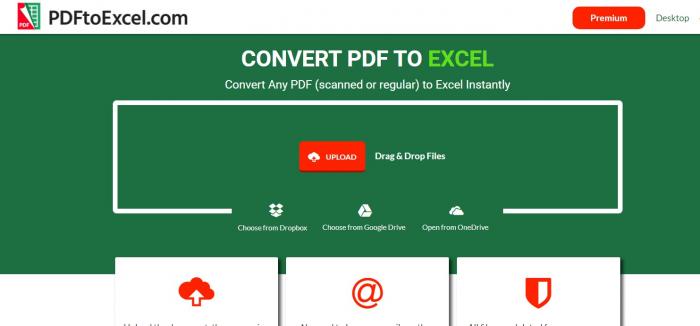 This is an automated PDF to Excel online converter. You just upload the file and it automatically converts it to excel for you. It does not require signing up before use and can be used for free too. It also works with scanned PDF files too while ensuring a safe and secure connection. It uses a specified exact spreadsheet recognition tool for accuracy.
Pros:
Full document conversion
An exact spreadsheet recognition tool is used
Used without signup
Cons
Large files has lags during conversion
Pricing: Free and Paid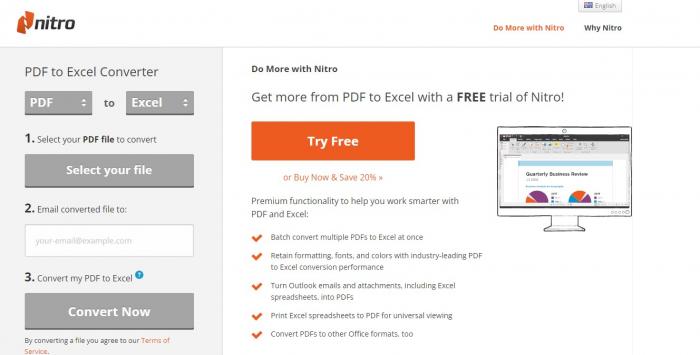 You can convert a PDF to excel with this tool. Nitro offers a 14-days free trial to any registered user. Also, it provides an OCR tool for accurate conversion. Also, it offers customization options before file conversion.
Pros
Easy to use
Unlimited customization for PDF conversion
Cons
Limited 14-days free trial version
Conclusion
Be it for bookkeeping, data entry or documentation, or data compilation, the need for an excel spreadsheet is almost insatiable. However, with PDFs editing difficulties, having the knowledge on how to convert PDF to excel spreadsheet is invaluable to hasten your workflow. Thus, you can select from the list of tools provided here anytime you have to convert PDF to excel spreadsheet.
FAQs
How do I Convert a PDF to Excel without Adobe?
Though Adobe is associated with PDF closely, with more easily accessible tools like VancePDF being developed these days, you can easily convert your files from PDF to Excel without the hassles of Adobe's steep subscriptions. Simply locate the site and upload your file for smooth and accurate file conversion.
Also read How to Save Excel as PDF Online for Free.