Top 5 Tools to Flatten PDF
Pricing: Free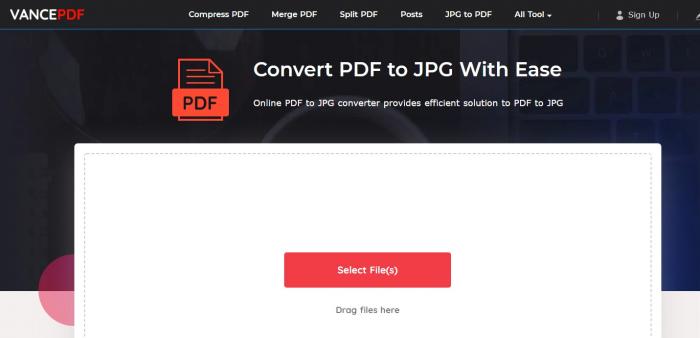 VancePDF is an auto-powered PDF tool and one of the best PDF converters. Using VancePDF, you can edit, merge, customize, convert, and flatten your PDF files into printable files devoid of any irregularities. Flatten PDF for free with this tool using simple basic steps. User privacy is guaranteed during and after use by deleting all data after 24hours of use. Also, the tool can be used on any platform.
Pros:
Free to use
User privacy is guaranteed
Automated flattening steps
Cons:
Large files often cause irregularities.
Pricing: Free trial and paid (starts at $7.50/month)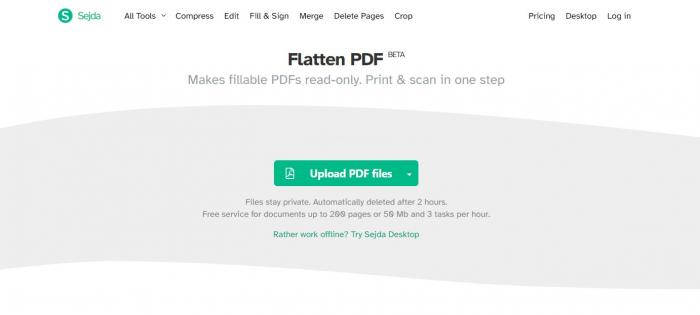 Sejia is an online PDF tool can be used to flatten PDF without hassles. With three simple steps to flatten PDF, you can be guaranteed easy access and a user-friendly experience. The site offers multiple platforms, accessibility, and even a desktop version. It supports over 200pages of documents and automatically deletes them, 2hours after use.
Pros:
Easy to use
Free to use
User privacy is secured
Cons:
Offline or free mode are limited to 50MB of task
Pricing: Free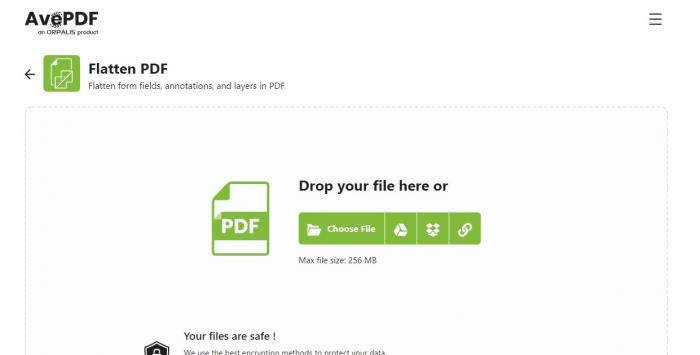 With AvePDF, you have access to the best encryption method that guarantees your data and user privacy. You can flatten PDF to desirable print mode and also have access to flatten annotated or edited PDF during the process. There is also a manual deleting option immediately after using the platform. It guarantees the safety of your file while offering smooth and secure processing.
Pros:
Easy to Use
Manually delete the file after use
Supports up to 256MB of file
Cons:
Inconsistent output delivery
Pricing: Free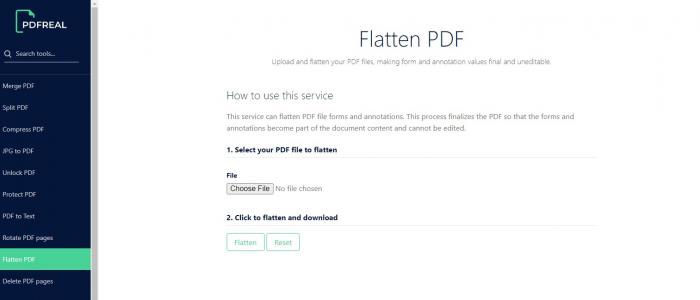 PDFreal is a PDF management tool that can be used to flatten PDF online. How to flatten PDF using PDFreal is simple and straightforward. Just select your file and upload it. Then click to flatten and download the final output. It is easy and quite simple to use. Perfect for beginners.
Pros:
Cons:
Large files take too long
Pricing: Free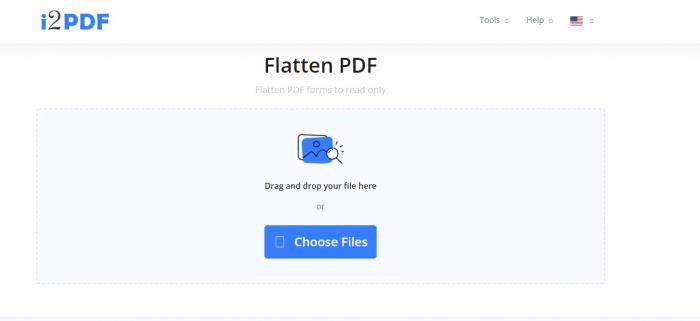 With this PDF management tool, you can be guaranteed of having access to one of the fastest means to flatten PDF online. Having access to more than 50 PDF tools, you can flatten PDF with a few clicks on this platform. Just upload the files and within a few clicks, your file is ready to download for prints.
Pros:
Cons:
Large files are hard to process
FAQs
What does it mean to flatten a PDF?
To flatten a PDF means to remove the layered transparent documents on the PDF file to ensure that the printer can read all the content on a file. It means eliminating transparency information and converting images to a format that the printer can read and process. Hence, to flatten a PDF means to make whole the layered content on a PDF for better printouts that you can also understand to convert PDF to JPG format.
Why do you need a flattened PDF?
Since PDF documents are widely accepted and often preferred by print providers, most heavy designing and complex contents are compressed into them, leading to transparent information. Flattening a PDF with a PDF to JPG converter will ensure the content are untampered during print.
How do you tell if a PDF has been flattened?
The simple way to decipher this is to use the highlight function on your PDF reader. If the highlight function works, the file is not flattened, but if it does not, it means the PDF has flattened the file by a PDF to JPG converter.
Does flattening a PDF reduce file size?
Not really! The file decreases but the optimized PDF looks almost exactly like the original document without the layered information.